Where to buy cheese ?
Cantal, Salers, Salers Tradition... At the farm, at the dairy, at the cheese ripener's or in a shop… Several places where you can buy our wonderful cheeses.
Cantal, a cheese that bears his name since 1298, is one of the most imposing (wheel of 45 kg on average) and also the oldest of cheeses (it was already spoken of in Rome in the 1st century). In a territory with harsh winters and steep relief, the inhabitants had the idea of making a cheese of a size large enough to make it both a food reserve and an object of trade.
Tell the difference between : 

THE CANTAL CHEESE
The CANTAL cheese : made with pasteurized or unpasteurized milk, all year long.
According to three periods of maturing, we obtain :
•    The "mild" Cantal : aging from 30 to 60 days,
•    The "mature" Cantal : aging from minimum 90 days to 210 days, 
•    The "aged" Cantal : aging from minimum 240 days.

THE SALERS CHEESE
The SALERS cheese : It is an unpasteurized cheese, made since April 15th to November 15th when cows graze on fields (grass and plants giving the different tastes to the cheese), put in a cellar at least 3 months.

THE SALERS TRADITION CHEESE
The SALERS TRADITION cheese : It is a Salers cheese only made with milk coming from Salers cows. The sign of recognition is "Tradition Salers". 
THE PRODUCERS
Meet our cheese producers, visit their farms and learn more about the cheese making.
 
DAIRY AND CHEESE CELLAR

SHOPS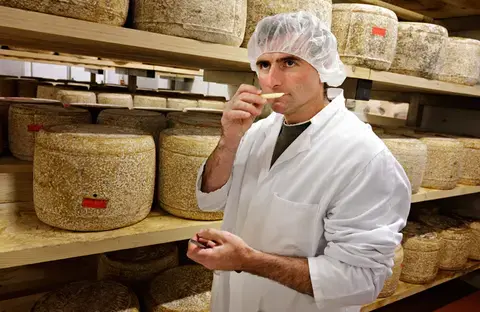 Our addresses
You lick your lips at the prospect of eating cheese… Here there are the addresses where you can buy Cantal, Salers and Salers Tradition).
Click here !
---